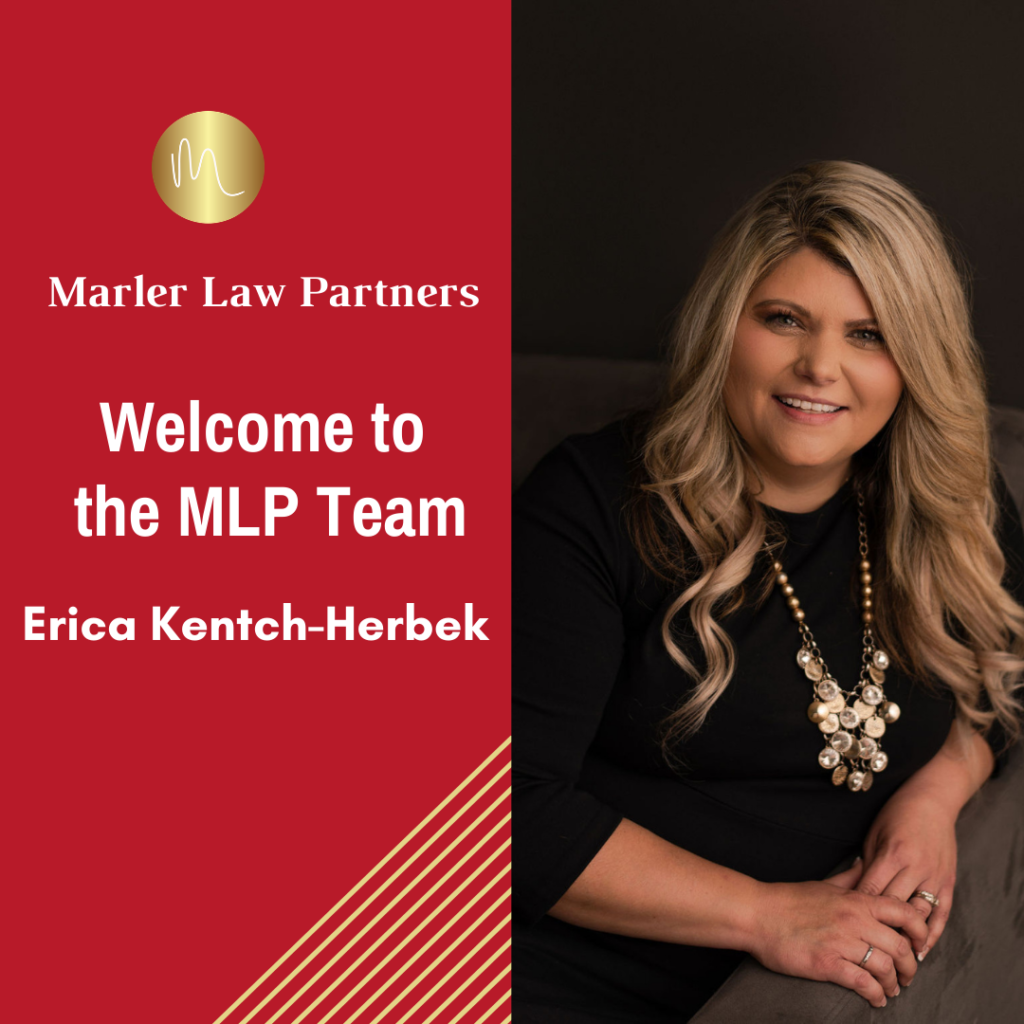 Erica Kentch-Herbek sits down and answers questions about why she loves the work she's doing, her food and entertainment recommendations, and gives us other fun facts about her life at work and home.
What made you want to pursue a career in law?
Two things turned me toward a career in law.
First, I knew even early in high school that I wanted to go into a helping profession. I was fairly set on becoming a dentist and from late high school until the end of my freshman year of college I was committed to dental school and a career in dentistry. At the end of that year I sat down and re-evaluated my direction. I just didn't think I'd enjoy spending years studying nothing but math and science so I thought about my skills and what I liked doing. I'd always enjoyed reading and writing and I realized those are abilities that are important in the legal profession.
Second, in 2010 my parents were involved in a bad motorcycle accident and were seriously injured by a driver who ran a red light. The outcome could have been tragic. They worked with a lawyer who did an excellent job of making sure they were taken care of very well. So I saw first-hand the difference a lawyer can make in someone's life.
What made you interested in family law in particular?
Family law is one of the most personal areas of law, and it's personal to everyone on both sides of the table. There aren't always great outcomes in family law cases, but you can work to get everyone involved an outcome that allows everyone to move on with their life – especially if there are children involved. For a lawyer who wants to be in a helping profession there's probably nothing better than family law.
What is a hidden talent that you have?
When I was a child I was very involved in equestrian sports and also in singing. I was fortunate to go to Europe on a music education tour at one point.
What shows do you like watching?
I've always enjoyed light comedies and legal dramas.
What is one you'd recommend?
I still love "Gilmore Girls," "Heart of Dixie" and "Suits."
If you weren't a lawyer what would you be?
I'd be a dentist!
If you could be a celebrity for one day, who would it be?
For different reasons I'd be Taylor Swift because she's had such an interesting life. Then Reese Witherspoon since I really identify with her character in "Legally Blond." And Mother Teresa because of all the good she did in the world.
What is your favorite thing about your coworkers?
I think it's great that everyone in the firm is so fun, there's never a dull moment. We work hard but we still do what we can to enjoy the work and each other. Plus there's such a team spirit with everyone. I never feel unsupported.
If Marler Law Partners were to compete in an Olympic Sport, what would it be, and why would you excel at that?
I'd have to say the equestrian events. I've spent a lot of time on horseback!
What is your ideal day off of work?
Spending time with my 12 year-old daughter. We love getting manicures and pedicures, and going shopping together.
What lawyer stereotypes do you find to be true and untrue?
It's true that most lawyers are strong advocates for their clients; most are very passionate about their work and doing their best for the people they represent. It's not true that most lawyers are cold, heartless, insensitive people.
Where is your favorite place to grab a bite or drink after work?
Two places. The first is One19 North Tapas in Kirkwood and the other is Petit Paree in Festus.
What else should folks know about Erica Kentch-Herbek?
I come from a big family and we've experienced divorce just like any other family. I've seen up close how important family law is to the people involved and how much it matters, not just today but so many times for the rest of the lives of everyone involved. I'm happy to be focusing on family law now and I love that I feel so at home with the firm.